Fab Lab
---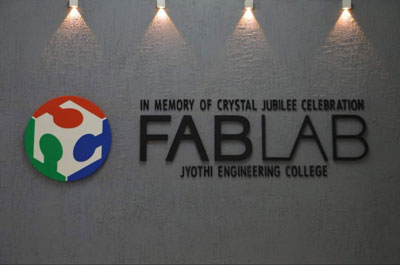 Fab labs provide widespread access to modern means for invention. They began as an outreach project from MIT's Centre for Bits and Atoms (CBA), and became into a collaborative and global network. Fab Foundation Formed in 2009 to facilitate and support the growth of the international fab lab network as well as the development of regional capacity-building organizations.
Fablab – Kerala
With the support of Government of Kerala, KSUM has started two MIT USA Electronics Fabrication labs each at Technopark, Trivandrum and Kerala Technology Innovation Zone (KTIZ), Kochi. The fablab in Technopark, Trivandrum is established inside the Indian Institute of Technology and Management- Kerala (IIITM-K). A Fabrication Laboratory (FabLab) is a technical prototyping platform for innovation and invention which aims at providing stimulus for local entrepreneurship and serves as a platform for learning and innovation.
JECC Fablab
Jyothi Engineering College has started a mini fabalab(mini fabrication laboratory ) with support of APJ Abdul Kalam Technological university and Kerala Startup Mission(KSUM) in the college campus. JECC Mini Fablab is the one of the first 20 mini fablab in kerala. Each Mini fablab contain machinaries , tools and consumables cost of 50 lakh Indian rupees. All the equipments are imported from fablab foundation USA and equipmenst delivered in our college on May first week First phase of training program held at Trivandrum Fablab for the mini fablab staff on december 2016. A fablab graduate assigned by fablab foundation can only authorise to install the equipments . JECC fablab installed by Mr Louies ( Portugal Fabalab) and KSUM staff.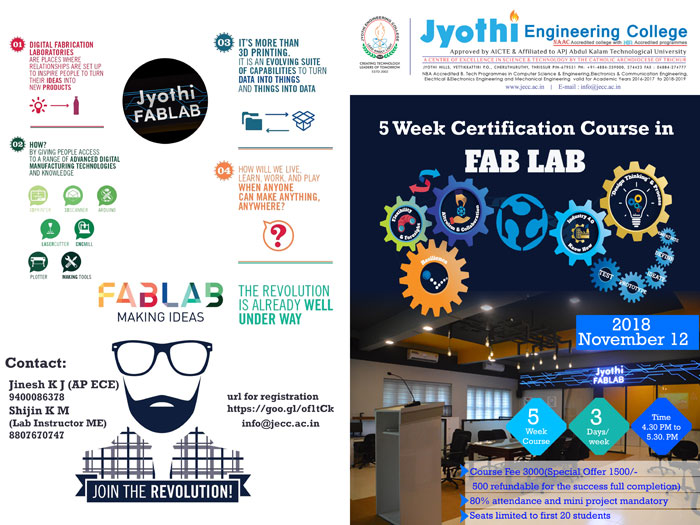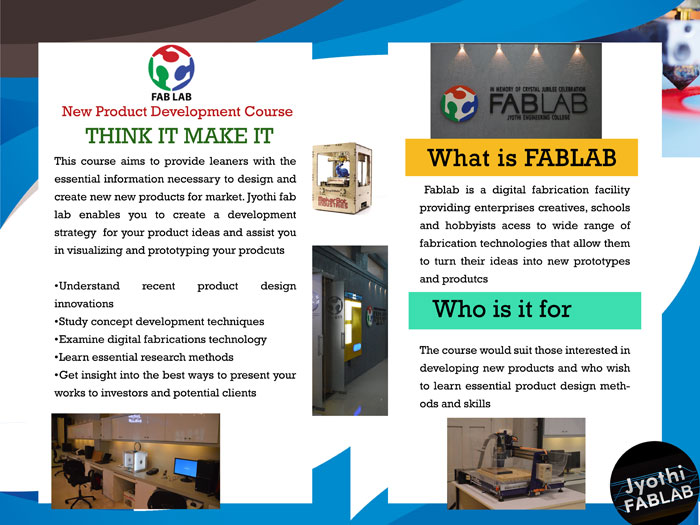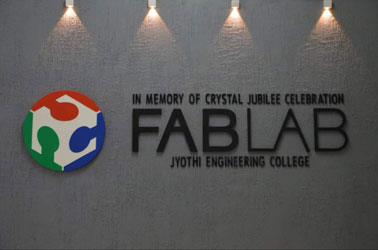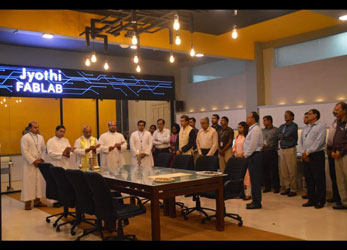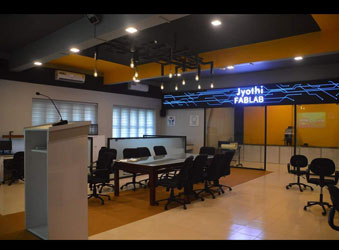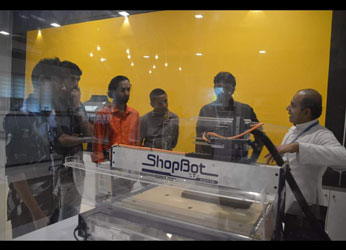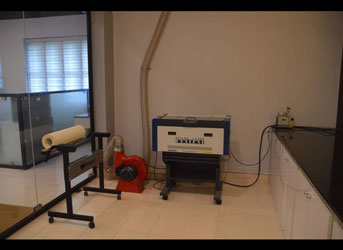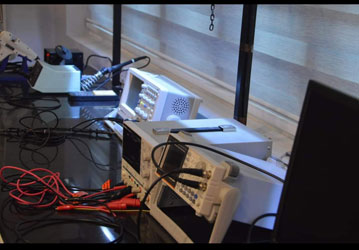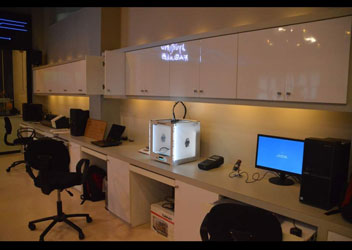 Computer Center
---
The Computer Center provides central facility for the growth and development of the college. The computer center provides Installation & Maintenance of Servers for Internet Access, E-mailing and other Computational Facilities. The Computer Centre has High End Computational Servers on which accounts are given to students and staff in the campus. Computer Centre has got several versions of UNIX and Windows based operating system.
Features
5 Servers (Blade Servers: SunFire X 4150 × 4, HPE ProLaint DL380 Gen 9)
Machine Brands includes SUN, HCL, HP, ACER, DELL, LENOVO, INTEL NUC Kit.
Total client machine population is 764. 
Red Hat Linux server serves as the automation server and for the Programming labs.
A Central Computing Facility with over 210 systems is available. 
48 Mbps leased line connectivity of Asianet and 10 Mbps BSNL connectivity for the internet usage of staff and students with no extra charges.
Working Hours
Working Hours: 9:00AM to 7:30PM(Monday to Saturday)
First Year students are permitted to use internet lab from 11:50 am to 12:45 pm
Others from 12:45 pm to 1:35 pm
Common browsing time : 4:30pm to 7:30 pm.
Internet Details
Name of Internet Provider : ASIANET, BSNL.
Available Bandwidth : 58 Mbps [48 Mbps (ASIANET) + 10 Mbps BSNL]
Access Speed : Excellent 58 Mbps
Availability of Internet in an exclusive lab : Yes (Computer Center)
Availability in most computing labs : Yes 24/7 100%
Availability in departments and other units : Yes 24/7 100%
Availability in faculty rooms : Yes 24/7 100%
Institute's own Email facility to Faculty / Students : Yes 24/7 100%
Security / Privacy to Email / Internet users : Yes 24/7 100%
Campus is networked through Optical Fiber, Ethernet and Wi-Fi
Hostel
---
The two campus hostels, Santhome for gents and Marian for ladies, are taken care of by dedicated Catholic Priests and Sisters. There is telephonic access to all rooms but mobile phone is banned as it is in the College. Affectionate discipline, tasty food at moderate rates and neat rooms with modern sanitation are the hallmarks of the Jyothi hostels..Hostels follow dividing system in running the hostel mess. Students Mess committee would decide the menu. A chapel is provided, so that catholic students can attend the daily Holy Mass, night prayer, prayer meetings etc. Other Students are also free to use the chapel for personal prayer. During study time hostels are expected to observe complete silence, they must be in their own rooms or in the study hall. Electricity is provided for 24 hours. In case of power failure, generator will supply power to the hostel.Incoming phone calls will be provided to the students in their rooms at the prescribed times. I T card phone and telephone booths are also available. TV programmes are permitted daily during recreation time and on holidays. Facilities for games are available in the hostel compound itself. Washing and drying area is provided along with the facility to iron. Hostel also provides a store which carries general and stationery items
Monthly Hostel Fees
| | |
| --- | --- |
| Rent | 750 |
| Water and Electricity | 450 |
| Phone Rent | 50 |
| Food - Dividing Mess | Apx.2000 |
| Total | Apx. 3,250 |
Gents Hostel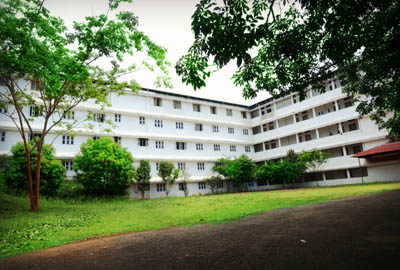 The hostel is located within the residential area of the campus. The facilities like Separate prayer halls for Christian, Hindu and Muslim, Mess halls, TV Hall, Table Tennis and other indoor Games, Gymnasium, Notice board. are also available in the boys' Hostel. All the rooms have phone facility.
Number of Inmates
280


Cheif Warden MH

Rev. Fr. Roy Joseph Vadakkan
Mob: 9447615321
Extension No.:278


Asst. Warden MH

Fr. Joju Chiriyankandath
Mob:9961888515
Extension No.:280


Asst. Warden MH

Fr. Ajeesh Babu Perinchery
Mob: 7561014455
Resident Tutors
Mr:Arun Raj
Mr:Ponmani Raja
Mr:Cijil B John
Mr:Majo John
Mr:Jithin K Kuriakose
Mr: Anto Zakariah
Mr:John Paul Martin
Phone Number
+91-4884-274777,274198
Girls Hostel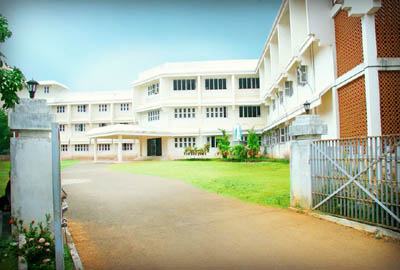 The hostel is located within the residential area of the campus. The facilities like Separate prayer halls for Christian, Hindu and Muslim, Two mess halls, TV Hall, In door shuttle court , Table Tennis and other indoor Games, Gymnasium, Notice board, Cooperative Store Extension Counter, STD/ISD connection etc. are also available in the Ladies' Hostel. All the rooms have phone facility.
Number of Inmates
190


Warden LH
Rev. Rosily K. L.
Franciscan Sisters of St. Elizabeth, Ponganankad

Extension No.: 253
Asst. Warden LH
Rev. Sr. Teena Sebastine
MS Elia P.O.
Resident Tutors
Ms. Alice K Paul
Ms. Sruthi Menon
Ms.Nisni M Ashraf
Ms.Aswathy Rajan
Ms.Reshma K.V.
Phone Number
+91-4884-274777,274198
Transportation
---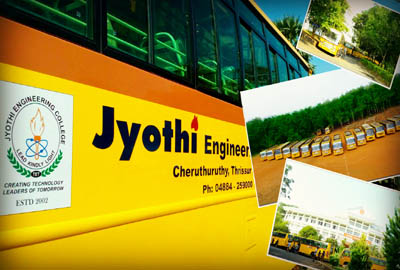 The campus being 30Kms from Thrissur town , the college provides transportation facility for both students and staff. There are 20 buses which take care of commutation of about six hundred students from various locations. There is one exclusive Van for senior staff.
To view Bus Route and Fee details click here (updated on 29 Nov, 2018).
Canteen
---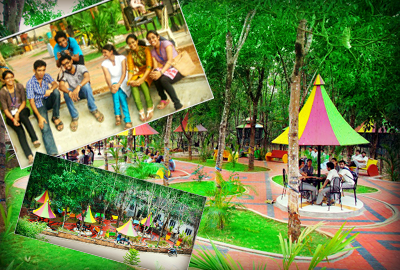 Canteens are an important part of college life as they're the only place where you find most students. The campus has a canteen near to the Admin block, frequented more perhaps by hostelites looking for a change from hostel grub than the occasional visitor. The Canteen is open from 8.00 A.M. to 5.00 P.M. on all working days including Saturdays.Canteen in our campus provides hygienic food at subsidized rates for the students, staff and visitors to the college. A wide variety of South Indian dishes are available. During lunch time Meals are available. The students are served with morning tea, snacks, lunch and evening tea. The Canteen is opened throughout the day to cater the needs of the students. Full breakfast and lunch services are provided with a smaller food selection available during the evening. The rates too are affordable for the students.

Two coffee shops are also there inside the college for the refreshment of both staff and students.
Auditorium
---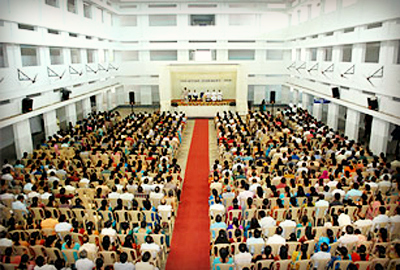 Our college auditorium provides facilities for the audience to hear and watch performances during special occasions. It is the place where the whole Jyothi family assembles together. The college has Auditorium of floor area 725 sq.m in the Western Academic Block. It has a seating capacity of more than 1000 persons.
Bank
---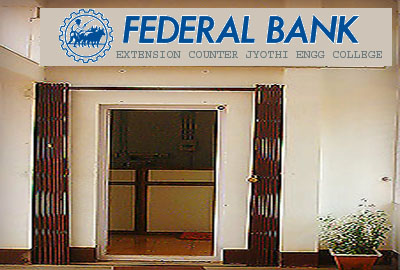 An extension counter of The Federal Bank Ltd (CHERUTHURUTHY) functions in the Eastern Block of the college. students pay their fees through the bank and the staff draw their salaries from the bank.Besides our staff and students the public too can avail themselves of banking facilities.







Address
THE FEDERAL BANK LTD - CHERUTHURUTHY EXTENSION
JYOTHI Engineering COLLEGE,
PANJAL ROAD,
VETTIKATTIRI,
CHERUTHURUTHY, THRISSUR.
IFSC Code Details
Bank : The Federal Bank Ltd
State : Kerala
District : Thrissur
Branch : Cheruthuruthy Extension
IFSC Code : FDRL0001525(5th character is zero)
Branch Code : 001525(Last 6 Characters of the IFSC Code)
City : Cheruthuruthy
Address : Jyothi Engg College
Panjal Road, Vettikattiri
Chruthuruthy, Trichur
Contact : 04884 274853
Email: PTB@FEDERALBANK.CO.IN
Technology Business Incubator
---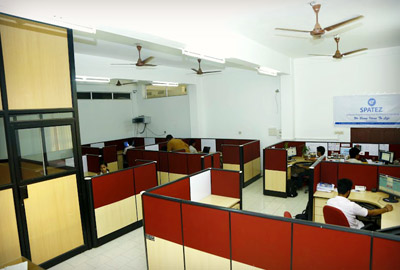 tbi@jec is an initiative by Jyothi Engineering College, set up to promote innovation and entrepreneurship by converting and translating technology ideas in various disciplines of science and engineering into products, processes and services for commercial exploitation and for the benefit of society. We facilitate incubation of new enterprises with innovative technologies by admitting them into TBI and providing them with physical, technical, managerial and networking supports and services. tbi@jec is having thrust areas in Information and Communication Technologies, VLSI, embedded systems, Instrumentation, energy, mechatronics and robotics.
Future Scope
TBI foresees a bright future in the young, technically competent engineers in Kerala. TBI looks forward to establishing an Entrepreneur Leadership Institute in the campus, which will provide training and mentoring support to budding entrepreneurs. We also look forward to offering an MBA programme with a specific focus on entrepreneurship. Another incubation facility of 10000 sft is being actively considered.
Fitness Center
---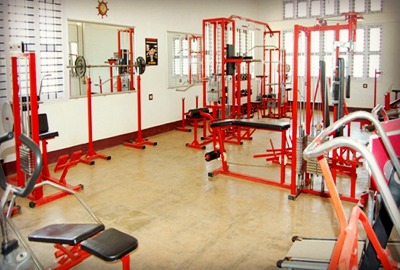 According to an English proverb, "A healthy mind resides in a healthy body". The College Fitness Center houses an ultra modern gymnasium, 2000 square feet in plinth area, catering to the needs of the fitness enthusiasts. Staff and students are free to use the gymnasium under the tutelage of professional trainers. Its state-of-the-art equipment includes bench press,peck deck,bicep curl, lateral pulley and body twister machines. A fitness professional possessing the knowledge, skills and abilities for safe and effective exercise and fitness program design, instruction and assistance for the purpose of reaching personal health and fitness goals is appointed to train the needed.
Timing(For Boys and Girls )
Morning 06.00am-07.30am
Evening 04.45pm-06.30pm
Seminar Halls
---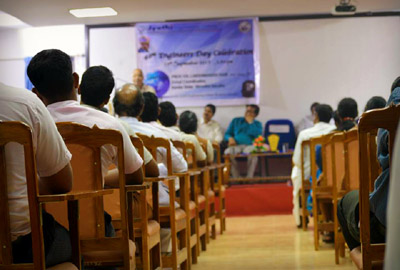 Jyothi Engineering College provides an air conditioned, well equipped seminar halls named 'Decennial Hall and Insight Hall' with the latest digital sound system, LCD projectors, podium etc, in the Eastern Academic Block having a floor area of 72sq.m and with a seating capacity of 100 persons. The seminar hall can be used for activities such as seminars, guest lectures, cultural activities, whole staff meetings and other events. Seminar halls are also provided to every department which is an ideal venue for student seminars and other departmental events. It also includes LCD projectors and white board.
Board Room
---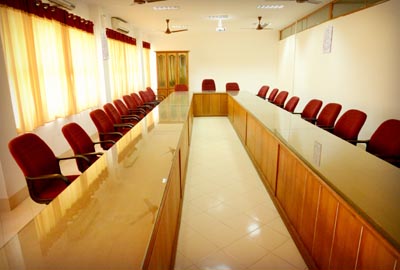 The Jyothi Engineering College provides an air conditioned Board Room with round table attached with cafeteria in the Administrative Block itself. The hall can be used for official meetings and has a floor area of 86 sq.m, with a seating capacity for 30 persons.
Chapel
---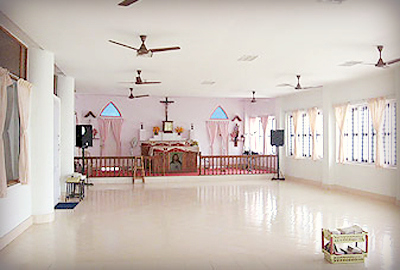 Jyothi Engineering College provides facilities to satisfy the spiritual needs of the students and staff. The third floor of the administrative block houses a beautiful chapel. Students are encouraged to spend some time everyday in the chapel for their spiritual nourishment. Mass will be celebrated every day in the Chapel for hostlers and for the catholic students and staff on first Friday of the month in the College Auditorium. The college has also provided facilities for non-Catholic staff and students to offer prayers as per their religious practices.
Playground
---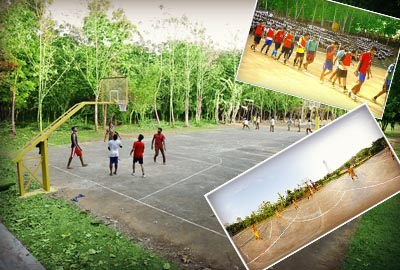 Natures instruments has built a beautiful playground for Jyothi Engineering College with ample facilities for outdoor sports like Hand ball, cricket, football, volley ball, and basketball, which help the students to test their physical endurance.
Language Lab
---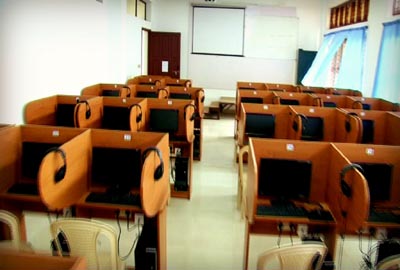 The language laboratory is an audio or audio-visual installation used as an aid in modern language teaching. The language lab is utilized at Jyothi to expose the students to the language of the native english speaker. The software ORELL is used to familiarize normally used colloquialisms while maintaining correct grammar. It introduces interview skills, communication skills and methods to increase vocabulary and language awareness.