A desire is your first step to change, a decision the second and a determination the surety of your success.
NBA ACCREDITED TILL 30-06-2019
(Vide ref. F.No. 26-50/2014/NBA Dt: 25-10-2016)
The Department of Mechanical Engineering started functioning in 2004, two years after the inception of the College. Currently, the department offers a four year UG program in Mechanical Engineering and is affiliated to APJ Abdul Kalam Technological University. UG program in Mechanical Engineering attracts bright and aspiring students every year and is designed to provide solid foundations for careers in industry, research, and academia. The department has highly qualified, experienced and dynamic faculty members with specialization in Thermal Engineering, Machine Design, Materials Engineering, Advanced Manufacturing, Industrial Engineering and CAD/CAM. THe department is equipped with most modern infrastructure and state of art laboratories to undertake high-end teaching, research and developmental activities.The department has well equipped seminar and drawing halls, department library and remarkable computing facilities with the latest software like Pro-E, Catia Solidworks etc. The department is vibrant with several activities, both academic and cultural round the year.
Milestones
2004 Course started, affiliated to Calicut university –Intake 60
2007 Lateral admission started with an intake of 6
2011 ISO certified
2011 Intake increased to 120
2015 Affiliated to A P J Abdul Kalam Technological university
2016 Accredited with NBA for B.Tech Mechanical Engineering
Long term goals
To make a full fledged Department offering UG, PG and Doctoral programs in all main streams of Mechanical Engineering.
Short term goals
To start PG programs.
To improve the infrastructural facilities viz. additional lab buildings, equipments and software.
To enhance employability and placement of students.

Vision
To provide quality education of international standards in Mechanical Engineering and promote professionalism with ethical values, to work in a team and to face global challenges

Mission
To provide an education that builds a solid foundation in Mechanical Engineering.
To prepare graduates for employment, higher education and enable a lifelong growth in their profession.
To develop good communication, leadership and entrepreneurship skills to enable good knowledge transfer.
To inculcate world class research program in Mechanical Engineering.

Programme Educational Objectives
Graduate Engineers shall have strong practical and theoretical exposure in the field of Mechanical Engineering and will contribute to the society through innovation and enterprise.
Graduate Engineers shall have global outlook and technological leadership, good employments or opt for higher studies/research and have creative thinking to initiate and develop innovative ideas.
Graduate Engineers shall have excellent teamwork, communication and interpersonal skills, having high morals and ethical values.

Programme Outcomes
PO 1. Engineering knowledge: Apply the knowledge of mathematics, science, engineering fundamentals, and an engineering specialization to the solution of complex engineering problems.
PO 2. Problem analysis: Identify, formulate, review research literature, and analyze complex engineering problems reaching substantiated conclusions using first principles of mathematics, natural sciences, and engineering sciences.
PO 3. Design/development of solutions: Design solutions for complex engineering problems and design system components or processes that meet the specified needs with appropriate consideration for the public health and safety, and the cultural, societal, and environmental considerations.
PO 4. Conduct investigations of complex problems: Use research-based knowledge and research methods including design of experiments, analysis and interpretation of data, and synthesis of the information to provide valid conclusions.
PO 5. Modern tool usage: Create, select, and apply appropriate techniques, resources, and modern engineering and IT tools including prediction and modeling to complex engineering activities with an understanding of the limitations.
PO 6. The engineer and society: Apply reasoning informed by the contextual knowledge to assess societal, health, safety, legal and cultural issues and the consequent responsibilities relevant to the professional engineering practice.
PO 7. Environment and sustainability: Understand the impact of the professional engineering solutions in societal and environmental contexts, and demonstrate the knowledge of, and need for sustainable development.
PO 8. Ethics: Apply ethical principles and commit to professional ethics and responsibilities and norms of the engineering practice.
PO 9. Individual and team work: Function effectively as an individual, and as a member or leader in diverse teams, and in multidisciplinary settings.
PO 10. Communication: Communicate effectively on complex engineering activities with the engineering community and with society at large, such as, being able to comprehend and write effective reports and design documentation, make effective presentations, and give and receive clear instructions.
PO 11. Project management and finance: Demonstrate knowledge and understanding of the engineering and management principles and apply these to one's own work, as a member and leader in a team, to manage projects and in multidisciplinary environments.
PO 12. Life-long learning: Recognize the need for, and have the preparation and ability to engage in independent and life-long learning in the broadest context of technological change.

Programme Specific Objectives
PSO 1: Graduates would be able to apply their knowledge in the domains of manufacturing, fluid and thermal sciences to solve engineering problems.
PSO 2: Graduates would be able to apply the principles of design and analysis on product design with the help of modern CAD/CAM tools.
PSO 3: Graduates would be able to apply the basic principles of engineering and management practices in various practical fields to engage themselves in research/ Industry/Society.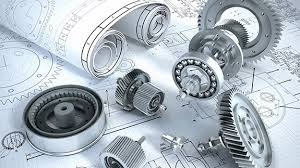 Mechanical engineering is one of the evergreen branch among all the branches of engineering. It is also one of the oldest branches of engineering. This field of engineering is considered as the broadest of all engineering fields and in addition, job prospects on offers for skilled Mechanical Engineers are plenty and unending. Mechanical Engineering deal with the concepts of mechanics, thermodynamics, robotics, kinematics, structural mechanics, fluid mechanics, power generation, refrigeration, air conditioning, aerospace and many more. Mechanical engineers are required to design, test, manufacture, install, operate and maintain a wide array of machines and mechanical systems that are used in industries and also are engaged iin various projects particularly in installation of Mechanical, Civil and Electrical engineering field equipments and as a result is expanding beyond its boundaries and become more of interdisciplinary in nature. With the advent of latest technological innovations, new opportunities are budgeoned into existence for mechanical engineers such as nanotechnology, development of composite materials, biomedical applications, environmental conservation etc Mechanical engineers can find employment in both government as well as private sector. Skill sets of mechanical engineers and their job roles are going to be the biggest driving force behind product development, innovation, patents and quality of manufacturing in India. There is also an equal rise of opportunities outside India, as almost all the inventions that we are seeing involves the application of mechanical engineering in one way or the another.
Some of the most necessary prerequisite skills of a mechanical engineer are:
Attention to even the minute details
This is a mandatory feature that every mechanical engineer should develop and considered as a major competing factor. In an industry mechanical engineers have to be attentive towards the possibility of arising any trivial mistakes and at the same time to ensure absolutely precise measurements such that the final product is picture perfect.
Team building skills
In mechanical engineering field, you would never be able to survive as a lone wolf and that is why you need to be collaborative and have the essence of team building inside you.
In-depth analysis and problem solving
An ideal mechanical engineering graduate should have the ability to break down any problem into smaller segments, analyze them and find the solution.
Duties of Mechanical Engineers include but not limited to:
• Analyze problems to see how mechanical and thermal devices might help solve a particular problem.
• Design or redesign mechanical and thermal devices or subsystems, using analysis and computer-aided design.
• Investigate equipment failures or difficulties to diagnose faulty operation and to recommend remedies
• Develop and test prototypes of devices they design
• Analyze the test results and change the design or system as needed
• Oversee the manufacturing process for the device
Sales and Marketing
Project Execution
Purchase
Maintenance
Management etc.
In general, the job profile of mechanical engineers can be classified into the following segments.
Research and Development (R&D):
This is an exciting role and the job responsibilities involve developing new products & design by doing market research and implementing them to find out the possibilities. This will be a very good choice if you are interested to learn new things and explore latest technologies.
Design:
This job role involves the design and creation of technical drawings and design criteria either manually or with the aid of computers. This will be an ideal role for you if you are good in analysis, visualization of mechanisms, creating engg. drawings and computer software.
Production:
This job role mainly involves the supervision of manufacturing process of components and machines. If you are interested in manufacturing process and want to get experienced with the techniques involved in production this will be a promising field.
Analysis & Testing:
The job role is to analyze & test the different types of machines and their parts to ensure that they don't have any faults and function flawlessly. This will be a very good option for you if like to get experienced in the production process.
Installation:
This role involves the application knowledge of professional to integrate sub-assemblies and install machines and mechanical parts at industries and client locations. This role mostly requires application knowledge. So, if you are the one who is good at application and not in the theory, then this will be the right field for you.
Maintenance:
The primary role involved in this job is to ensure that the machinery is working as per the specifications without any faults. Most of the core industries have a dedicated team who do the maintenance of their products, machines, and equipment. This role also requires more of practical and application knowledge.
Some of the industries that take in lots of mechanical engineers into their process are follows:
Automobile Industry:
Automobile industry is one of the fast growing industries that offer a variety of opportunities for mechanical engineers in research & development to maintenance. All the top automobile industries have already begun to invest lots of money on developing self-driving autonomous cars, pod-based transportation, bullet trains etc.Top recruiters for automobile engineers include Toyota, Ashok Leyland, Maruti Suzuki, Renault, Audi, Bajaj Auto, Volkswagen, etc.
Aerospace Industry:
Aerospace Engineering is one of the most challenging and interesting fields of engineering. Aerospace engineers find a number of job opportunities in the aviation sector, spacecraft manufacturing and, defense organizations. As an aerospace engineer, you will be employed in designing, testing or manufacturing of high tech, reliable and robust aircrafts, hypersonic aircrafts, satellite launch vehicles as well as missiles. Many Govt. organizations like ISRO, DRDO, HAL hire aerospace engineers. Aerospace is one of the fields of Mechanical Engineering that has good scope in defense sector. Aerospace engineering is an ever-evolving field full of opportunities in the future and with more and with more private players emerging into the scene, job prospects for aerospace engineers are getting better. Mechanical engineers will have a predominant role to play in this sector, as these mostly dependant on the design and manufacturing of heavy machinery and components. Skills in aerodynamics, aeromodelling principles etc. are essential to pursue a career in this industry.
Steel Plants:
India was the world's third-largest steel producer in 2016. The steel industries are having a phenomenal growth mainly due to the large availability of raw materials domestically. This market is growing by 10 % every year making it one of the largest contributors to India's economy. There is a lot of scope for mechanical engineers in this sector, and the job role offered varies from production to maintenance. Mechanical engineers who have good knowledge of metallurgy and material science can opt to work in this sector.
Thermal Plants:
Power industries are considered to be the greatest contributor to the economic development and industrialization in India. New power generating stations are being installed all across the country to meet the growing energy demands. This particular industry has a significant importance in the present scenario and will continue to play an important role in the power development for the years to come. Mechanical engineers who are good at thermodynamics, heat & energy transfer subjects can opt to work in this sector and will find it as a challenging career.
Shipping Industry:
Shipping industries play a crucial role in the Indian economy, as 90% of the nation's trade by volume is done via sea. India has been the largest merchant shipping fleet among the developing nations. Currently the shipping industry offers job opportunities for thousands of engineers in India, the maritime industry is constantly evolving and striving for increased innovation. It is evident that there will be more requirements for mechanical engineers in the coming years. Mechanical engineering students who are interested to take up installation and maintenance roles will find lots of opportunities in this sector.
Mechatronics:
Mechatronics is one of the trending technologies of today that offers wide variety of job opportunities for mechanical engineers. As it is a multidisciplinary field that integrates the mechanical engg. concepts and electronics. A lot of mechanical engineers would be needed to meet the industrial requirements. All the major industries of today have already started implementing solutions that would result in automation and improving efficiency of their product manufacturing. Mechatronics is one such solution that the industries prefer to reduce the human interaction and improve efficiency. From film industries to the manufacturing plants, more mechanical engineers would be needed to work on the mechatronics field.
Robotics Industry:
Robotics is the current technological innovation in which many of the industries are investing lot of time and resources. Mechanical engineers also play a major role in this innovative technology as more mechanical skills are needed for implementation. From automated assembly plants to carrying out logistics, robotics are assisting us in every step to reduce and ease the effort that we need to put. This particular reason makes the industries to adapt this technological implementation onto their operations. Therefore for a mechanical engineer with a decent knowledge on electronics/ software has a lot of scope on getting acquainted with this amazing technology.
Other sectors like refinery industries, petroleum engineering, mining, communication industries, construction and renewable energies also offer lots of job opportunities for mechanical engineers. To conclude with, It is one of the best engineering field among all other fields and have a good scope of job avenues in future.
The Mechanical Department Library holds a varied collection of educational aids in the field of Mechanical Engineering as well as project reports and seminar works carried out by the students. It offers an open access to all most all of its collections for those who are interested in it.
SL.No

ITEM

YEAR

TOTAL

2008

2009

2010

2011

2012

2013

2014

2015

2016

2017

2018

2019

2020

1

MAIN PROJECTS

13

13

18

14

8

9

11

20

24

23

23

176

2

MINI PROJECTS

94

14

108

3

SEMINARS

427

122

122

122

793

4

TEXT BOOKS

537

248

28

40

10

863

5

SPIRAL BIND TEXT BOOKS

38

38

6

MAGAZINES

2

1

1

1

5

7

NEWS LETTERS

8

2

2

2

14
Staff in Charge: Mr. Sheik Afthab
AMES, Association of Mechanical Engineering Students' of JECC, aims to play a pivotal role in the development of students as engineers by various out-of-curriculum and extracurricular activities. AMES aims to inculcate among its members an awareness and appreciation of the various disciplines of not just Mechanical Engineering but also other relevant fields. By way of its activities AMES aims to be a platform for all the students of JECC in general and particularly of the students of ME department. AMES seeks to be an active organization of the ME department at JECC which promotes their career interests.
ABOUT US
AMES, Mechanical Engineering Students Association, one of the earliest of technical students Association at Jyothi Engineering College established in 2005. Mr. Manoj Kumar V.K, Assistant Professor,ME is the first official Faculty advisor of AMES appointed by the Prof K.C John HOD,ME. Mr. Geevas Moncy & Mr. Sreekanth were the first President and Vice-President respectively. Right now, we have various different sub-committees which are consistently monitored by the executive committee. Today, ASME with its highly dedicated executive committee under the able guidance of faculty advisor and HOD is committed to achieve its goals.
GOALS/OBJECTIVES
To focus on the cutting edge technology and present it to the students in an interesting manner by means of lectures/talk, articles and workshops.

To bridge the gap between theoretical and practical/field knowledge.

Promoting the interests of students in various technical areas pertaining to mechanical engineering.

Giving relevant information to students to sustain their interest in their field-specific applications of ME.

Providing students of the department with relevant knowledge of other fields, given the inter-disciplinary nature of ME.

Interacting with other technical societies, within and outside the institute to promote flow of knowledge and interest.

To promote the interaction between academia and industry.

To encourage novel ideas by means of special projects.
---