"A stitch in time saves nine." Old proverb

NBA ACCREDITED TILL 30-06-2019
(Vide ref. F.No. 26-50/2014/NBA Dt: 25-10-2016)
Courses Offered
B.Tech

The Department of Computer Science & Engineering started the Bachelor of Technology programme in Computer Science and Engineering in the year 2002. The programme started with an intake of 60 students. The intake was increased to 120 in 2013.

The B.Tech.programme in Computer Science and Engineering has an average intake of 120 students per year. The Computer Science and Engineering Department spares no effort in imparting High Quality Education to its highly motivated students.

The programme is supported by good infrastructure facilities.The B.Tech.programme has good placement records every year. About 15% of the students pursue higher studies.

M.Tech

The Department of Computer Science & Engineering started the Master of Technology programme in Computer Science and Engineering in the year 2013. The programme started with an intake of 18 students.

The M.Tech programme in Computer Science and Engineering provides an overview of the recent developments in the various areas of Computer Science. GATE scholarships are offered to eligible candidates. Students who successfully complete the programme are employed in the industry. Alternatively, they can pursue higher studies in institutions of repute in India and abroad.

Vision
Creating ethical leaders in the domain of Computational Sciences through quality professional education with a focus on holistic learning and excellence

Mission
To create technically competent and ethically conscious graduates in the field of Computer Science and Engineering by encouraging holistic learning and excellence.
To prepare students for careers in Industry, Academia and the Government.
To instill Entrepreneurial Orientation and research motivation among the students of the department.
To emerge as a leader in education in the region by encouraging teaching, learning, industry and societal connect.

Programme Educational Objectives
The graduates shall have sound knowledge of Mathematics, Science, Engineering and Management to be able to offer practical software and hardware solutions for the problems of industry and society at large.
The graduates shall be able to establish themselves as practicing professionals, researchers or Entrepreneurs in computer science or allied areas and shall also be able to pursue higher education in reputed institutes.
The graduates shall be able to communicate effectively and work in multidisciplinary teams with team spirit demonstrating value driven and ethical leadership.

Programme Outcomes
Students in the programme at the time of their graduation are expected to possess the following capabilities :

1. Ability to apply the knowledge of mathematics, science, engineering fundamentals, and an engineering specialization to the solution of complex engineering problems.
2. Ability to Identify, formulate, review research literature, and analyze complex engineering problems reaching substantiated conclusions using first principles of mathematics, natural sciences, and engineering sciences.
3. Ability to design solutions for complex engineering problems and design system components or processes that meet the specified needs with appropriate consideration for the public health and safety, and the cultural, societal, and environmental considerations.
4. Ability to use research-based knowledge and research methods including design of experiments, analysis and interpretation of data, and synthesis of the information to provide valid conclusions.
5. Ability to create, select, and apply appropriate techniques, resources, and modern engineering and IT tools including prediction and modeling to complex engineering activities with an understanding of the limitations.
6. Ability to apply reasoning informed by the contextual knowledge to assess societal, health, safety, legal and cultural issues and the consequent responsibilities relevant to the professional engineering practice.
7. Ability to understand the impact of the professional engineering solutions in societal and environmental contexts, and demonstrate the knowledge of, and need for sustainable development.
8. Ability to apply ethical principles and commit to professional ethics and responsibilities and norms of the engineering practice.
9. Ability to function effectively as an individual, and as a member or leader in diverse teams, and in multidisciplinary settings
10. Ability to communicate effectively on complex engineering activities with the engineering community and with society at large, such as, being able to comprehend and write effective reports and design documentation, make effective presentations, and give and receive clear instructions.
11. Ability to demonstrate knowledge and understanding of the engineering and management principles and apply these to one's own work, as a member and leader in a team, to manage projects and in multidisciplinary environments.
12. Ability to recognize the need for, and have the preparation and ability to engage in independent and life-long learning in the broadest context of technological change.

Programme Specific Objectives
On the completion of Computer Science & Engineering program, the students will possess:
An ability to apply knowledge of data structures and algorithms appropriate to computational problems.
An ability to apply knowledge of operating systems, programming languages, data management, or networking principles to computational assignments.
An ability to apply design, development, maintenance or evaluation of software engineering principles in the construction of computer and software systems of varying complexity and quality.
An ability to understand concepts involved in modeling and design of computer science applications in a way that demonstrates comprehension of the fundamentals and trade-offs involved in design choices.
Ten big reasons to opt for Computer Science
1. Computer Science is part of everything we do!
Computer Science is part of just about everything that touches our lives from the cars we drive, to the movies we watch, to the ways businesses and governments deal with us. Understanding different dimensions of computing is part of the necessary skill set for an educated person in the 21st century. Whether you want to be a scientist, develop the latest killer application, or just know what it really means when someone says "the computer made a mistake", studying computer science will provide you with valuable knowledge.
2. Expertise in computing enables you to solve complex, challenging problems.
Computer Science is a discipline that offers rewarding and challenging possibilities for a wide range of people regardless of their range of interests. Computing requires and develops capabilities in solving deep, multidimensional problems requiring imagination and sensitivity to a variety of concerns.
3. Computer Science enables you to make a positive difference in the world.
Computer Science drives innovation in the sciences (human genome project, AIDS vaccine research, environmental monitoring and protection just to mention a few), and also in engineering, business, entertainment and education. If you want to make a positive difference in the world, study computer science.
4. Computer Science offers many types of lucrative careers.
Computer Science jobs are among the highest paid and have the highest job satisfaction. Computer Science is very often associated with innovation, and developments in computing tend to drive it. This, in turn, is the key to national competitiveness. The possibilities for future developments are expected to be even greater than they have been in the past.
5. Computer Science jobs are here to stay, regardless of where you are located.
There actually are more computing jobs than qualified people to fill them. If you consider the expected growth in computer science, it's easy to see that companies simply need more talent. It would be better to pursue a profession in Computer Science to qualify for the large number of open positions available right now.
6. Expertise in Computer Science helps you even if your primary career choice is something else.
Having a degree in Computer Science will provide you with a foundation of knowledge, problem solving and logical thinking that will serve as a competitive advantage to you in your career, in whatever field you choose.
7. Computer Science offers great opportunities for true creativity and innovativeness.
Creating high-quality computing solutions is a highly creative activity, and computing supports creative work in many other fields. The best solutions in computing exhibit high levels of elegance and beauty.
8. Computer Science has space for both collaborative work and individual effort.
Computer Science is often about being part of a team that requires people with many different kinds of skills. Yet there is also plenty of space for individual flair and imagination.
9. Computer Science is an essential part of well-rounded academic preparation.
An increasing number of universities and employers see successful completion of a Computer Science course as a sign of academic well-roundedness.
10. Future opportunities in Computer Science are without boundaries.
Computer Science is one of those fields where it is almost impossible to predict what will happen next. This is why we cannot even begin to imagine all the ways that you can make a contribution to it and it can make your life's work exciting and real.
About Curriculum of Computer Science
Computer science spans a wide range, from its theoretical and algorithmic foundations to cutting-edge developments in robotics and smartphones, computer vision, intelligent systems, bioinformatics, and other exciting areas.
Computer science spans the range from theory through programming. Curricula that reflect this breadth are sometimes criticized for failing to prepare graduates for specific jobs. While other disciplines may produce graduates with more immediately relevant job-related skills, computer science offers a comprehensive foundation that permits graduates to adapt to new technologies and new ideas.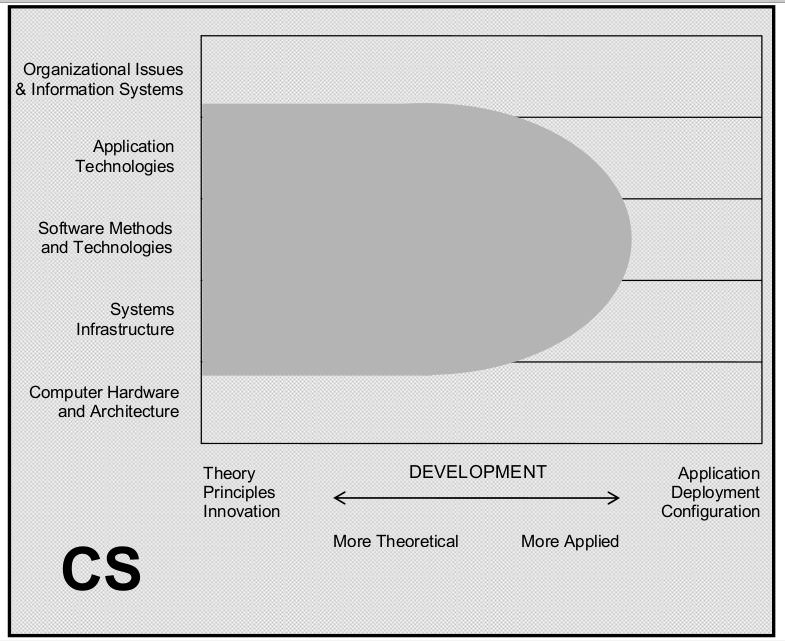 Fig: Problem-space of computer science. [Source ACM]
Computer science covers most of the vertical space between the extreme top and extreme bottom because computer scientists generally do not deal with just the hardware that runs software, or just the organization that makes use of the information that computing can provide.
As a group, computer scientists care about almost everything in between those areas (down as far as the software that enables devices to work and up as far as the information systems that help organizations to operate). They design and develop all types of software from systems infrastructure (operating systems, communications programs, etc.) to application technologies (web browsers, databases, search engines, etc.)
Computer scientists create these capabilities, but they do not manage the deployment of them. Therefore, the shaded area for computer science narrows and then stops as we move to the right. This is because computer scientists do not help people to select computing products, or tailor products to organizational needs, or learn to use such products.
Overall, there are far more degree programs in computer science than in any other computing discipline. The great majority of colleges and universities offer a CS degree. To some extent, this is a historical artifact: computer science was the only substantive computing discipline that focused explicitly on software development when academic computing degree programs emerged in the 1970s. When most colleges created their computing degree programs, computer science was the only choice that had strong ties to mathematics, science, and/or engineering.
[Source : ACM]
Aswathy Wilson and her team got Kanika Womens Forum award 2019 on 08/03/2019 for their project LYZA

---

Mariya S6CSEB Participated in the PRAYAANA CAREER QUEEN SUMMIT 2019 at KSUM Kalamassery on 8th March and Won 4th position

---

Catherine Anto , Bini Maria,Emmanuel Wilson,Ajaz F of S8 CSE under the guidance of Ms.Aswathy Wilson presented their project "Lyza for women" in Yuva master mind Grand finale held at Ernakulam.

---

Jisna Joby,Catherine Lenette,Agna E A, Divya shibhu under the guidance of Ms.Divya M Menon presented their project "Haptic Shoe for blind and elderly" in Yuva master mind Grand finale held at Ernakulam.

---

17 Jan 2019 - 21 Jan 2019

CSE and CE Department together organized 5 day FDP on "Innovative approach for effective implementation of student project and its documentation" from 17th to 21st Jan 2019.

---

Aswathy Wilson and her team Asna Nesry, Catherine Anto, Bini Mariya, Jima Mariya for their project "Lyza for women" won second prize in sanitation and waste management in national level competition Chhathra Viswakarma Award held at AICTE , New Delhi.

---

AmalPrem, Jain Johnson, Harikrishna , Delma Davis of S8 CS A with their project "IOT based speed limiter " under the guidance of Ms. Aswathy Wilson got fund of Rs.7000 from KCST

---

Mohammed Ashiq Maqbool, Viju Valsan, Mohamed Saajid KM, Kokul Jose, Raveena P of S6 CSE B with their project "Currency Recognition Spectacles for Blinds" under the guidance of Mr. Fepslin Athish Mon S got fund of Rs.5000 from KCST

---

19 Feb 2019 - 22 Feb 2019

CESA in association with IEDC conducted ONBOARD QUIZ for all students from 19/2/2019 to 22/02/2019 as a part of Tharang 2019

---

Mr. Unnikrishnan P delivered a talk and hands on session on "Machine Learning" at Christ Engineering college on 21/2/2019

---

Joseph Joel, Nithin Peter, Rashi M, Karthik P C, Adithya Vijayan ,Sanjana, Shibana , Sangeetha C P, Sreehari , Sidharth U, Shinoz Mohammed , V J Vishnu, Joseph Joseph, Saurav Mundanatt, Naveen P R,Vincy Anto of S4 CS B and Amal tom and Deepak K V of S4 CS A has completed "Google Cloud Platform Fundamentals : Core Infrastructure" offered through Coursera.

---

Anand Murali, Akhil V, Arif got First prize in Electro Hackathon , and Arya P Menon, Anu C Jaison got First prize in Volt Hunter, in the tech fest held at Vidya Engineering college.

---

Archana Venugopal and Jeena Varghese secured third prize in the event V-Hack and Kokul Jose secured first prize in the event CODX in KTU tech fest 2019 held at GCT Thrissur on 15/02/2019 – 17/02/2019

---

03 Mar 2018 - 04 Mar 2018

Icode in association with CESA organized a one day workshop, 'Introduction to Programming', on 3rd of March 2018. The workshop sessions were handled by Fr. Dr. A K George

---

18 Sep 2018 - 18 Oct 2018

CSE Department and IEI organized Engineers Day Celebration 18/09/2018. Fr. Dr. Jose Kannampuza, Director, St. Mary's Institute of Technology & Science was the chief guest .An interesting and informative talk on the theme 'Digital Transformation A New Industrial Revolution' was delivered, by the respected chief guest, to an audience of IE (I) student chapter members of the college.

---

29 Sep 2018 - 29 Sep 2018

The inauguration ceremony of Computer Science Engineers Association was held on 29th September 2018, Saturday at 2.00 PM, in the hall EAB 415. The chief guest for the occasion was Mrs. Sruthi A, Managing partner of D'katia Software Technologies.

---

14 Nov 2018 - 14 Dec 2018

Computer Engineers Students Association (CESA) in association with Computer Society of India (CSI) organized three days short term introduction program from 14th to 16th November 2018 in the topics: Web Design, Machine Learning, Arduino Programming. Total 100 students registered and 41 students were shortlisted for the course based on FCFS and their interest

---

02 Mar 2018 - 25 Apr 2018

A workshop on Experiments For Young Engineers and Scientists by Dr. B P Ajith Kumar ,Scientist H, IUAC, New Delhi on 05/02/18.
Organized by Computer Engineering Students Association and Computer Society of India student chapter of Jyothi Engineering College.

Venue : Decinnial Hall

Time : 9 :00 am

---

Lipin, Leon, Philip and Chris of S6 CSE-B have successfully developed a real-time Linux kernel for their smartphone Lenovo Vibe K5 from Android sources (Marshmallow). The kernel has been flashed to their smart-phone. A screenshot is appended here. The team is getting ready to build a fully functional Operating System for Lenovo Vibe K5. This is a new milestone in the history of CSE department, as there aren't any official release for Kernel or the Operating System from Android or other clones for Lenovo Vibe K5. Congratulations to the team.

---

Congratulations to Ms Maria Flower Wilson (University first rank in IT) and Ms Soorya M (University first rank in CSE) - University of Calicut (2011-2015)

---

30 Jan 2017 - 31 Jan 2017

CSE organized an FDP on Design Thinking in association with ISTE and IEDC of JECC on 30th and 31st of January 2017.

---

01 Feb 2017 - 31 May 2017

CESA organized a talk on "Career Growth in IT" for the students by Prof. Francis George on 27/01/2017.

---

---

07 Nov 2016 - 31 May 2017

CESA Organized a FDP on "How to write a Research Paper" for the MTech students and faculty on 10/11/2016

---

29 Sep 2016 - 02 Oct 2016

CESA Inaugration will be held on 30/9/2016. As part of CESA activities, a workshop on 'Rust system programming language' will be conducted. The workshop will be lead by Pramode C E, Founder, Recursive-Labs

---

M. Tech Induction ceremony (2016-2018 batch) will be conducted on 01/08/2016

---

---

---
The Department Library has a collection of around 1000 text books as well as project reports and seminar works carried out by the students. The library has annual subscription for CSI Communications and Open Source For You.It also has a collection of technical journals in various fields.It also has software CDs of various Linux Distros.
B.Tech (2006 Onwards)
Project Reports
Mini Project Reports
Seminar Reports
M.Tech (2014 Onwards)
Project Reports
Seminar Reports
Industrial Training Reports
Faculty in Charge: Mr. Fepslin Athish Mon S
Computer Engineering Students Association (CESA) is the first students initiated organization of Jyothi Engineering College. It has been set up with the aim of improving technical knowledge of students and bringing them closer to the practical world of computer science and technology. Several events were conducted by CESA for giving a platform for the students to present their ideas and innovative contributions to technical world.
Goals/Objectives:
Improve the technical knowledge of students and bring them closer to the practical world of computer science and technology.
Open the doorway to new technologies and conventions.
Provide the students a platform to express their creativity and to put on their ideas to more application level.
Open the doorway to new technologies and conventions.
---
List of Office Bearers 2018-2019:

Chairman : A M Abhishekh - CSE A, S7

Vice Chairman : Bini Maria B - CSE A, S7

Secretary : Surya R - CSE B, S7

Joint Secretary : Harikrishnan K R - CSE A, S5

Joint Secretary : Maria Ann Toms - CSE B, S5

Treasurer : Harikrishnan T - CSE A, S7

PRO &nbs

---

Executive Members 2018-2019

Emmanuel Wilson, CSE A, S7
Sreenath M, CSE B, S7
Abin Mathew Wilson, CSE A, S7
Sam Varghese Mathew, CSE B, S7
Rizana Fizal, CSE B, S7
Asna Nesry, CSE A, S7
Reshma Ramesan K, CSE B, S5
Sreelakshmi V G, CSE B, S5
Varun Wilson Alappat, CSE B, S5
Alwin Wilson, CSE A, S5
Jisna Joby, CSE A, S5
Divya Shibu, CSE A, S5
Agna E A, CSE A, S5
Catherine, CSE A, S5
Shabana Asmi, CSE B, S5
Sreelakshmi C, CSE B, S3
Mary Jose, CSE B, S3
Muhammed Afthab V U, CSE B, S3

---

---

Cesa Activities 2017-2018
Slno
Event Name
Date
Oragnised by
Resource Person
1
A seminar on issues of cyber security
06.07.2017
CESA and CSI
Mr.M.B. Sangameswaran
2
CESA inaguration
23.09.2017
CESA
Fr.Dr.Jaison Paul Mulerikkal
3
Seminar on topic out of Syllabus
23.09.2017
CESA and IEDC
Mr.Rohith Radhakrishnana
4
Technical Bootcamp
28.10.2017
CESA and CSI
Innostack, Ekm
5
Workshop on Expirements on Young Engineers and scientists
05.02.2018
CESA and CSI
Dr.B. P Ajith Kumar

CESA ACTIVITIES 2016-2017

Sl no
Event Name
Date
Organised by
Resource Person
1
Seminar on Self Reliant Entrepreneures
25.06.2016
CESA
Dr.Kabir
2
Interactive Session
25.06.2016
CESA
Dr.C.K.Raju
3
Project Expo
29.06.2016
CESA
Final Year Students
4
Interactive Session with students by Alumni
19.08.2016
CESA
Ms. Malini Bhaskar
5
CESA Inaguration
30.09.2016
CESA
Mr.Pramod C E
6
Workshop on Rust Programming
30.09.2016
CESA
Mr.Pramod C E
7
Seminar on How To Write Reasearch Paper
10.11.2016
CESA, R&D Cell
Dr. Usha Menon, Dr. C K Raju, Dr. V P Mohandas
8
Workshop on Python
10.03.2017
CESA
Dr. C K Raju, Ms. Ninu Francis, Ms. Reshma K V
9
Talk on Career Growth in IT
27.01.2017
CESA
Prof. Francis George
10
Talk on Water Quality Management
17.02.2017
CESA
Dr. Ratheesh

CESA Activities 2015-16

Sl. No.
Event Name
Date
Organized By
Resource Person
1
CESA Inaguration
08.09.2015
CESA
Mr.Satish Varma
5
Talk on Artificial Intelligence applied to Robotics
11.02.2016
CESA and CSI
P. Suresh
2
Project Expo
15.09.2015
CESA
Final year Students
3
Two day workshop on Robotics Swarm
16.10.2015
CESA and CSI
Botrio Design Labs
4
Talk on Networking At A Glance
29.03.2016
CESA
Dr. C K Raju

---
Faculty Achievements (2019)

Aswathy Wilson and her team got Kanika Womens Forum award 2019 on 08/03/2019 for their project LYZA

Mr. Unnikrishnan P delivered a talk and hands on session on "Machine Learning" at Christ Engineering college on 21/2/2019

AmalPrem, Jain Johnson, Harikrishna , Delma Davis of S8 CS A with their project "IOT based speed limiter " under the guidance of Ms. Aswathy Wilson got fund of Rs.7000 from KCST

Mohammed Ashiq Maqbool, Viju Valsan, Mohamed Saajid KM, Kokul Jose,Raveena P of S6 CSE B with their project "Currency Recognition Spectacles for Blinds" under the guidance of Mr. Fepslin Athish Mon S got fund of Rs.5000 from KCST

Aswathy Wilson with the team Asna Nesry, Catherine Anto, Bini Maria, Jima Mariya with their project "Lyza For Women" won second prize in Sanitation & Waste Management in National Level competition Chhathra Viswakarma Award held at AICTE , New Delhi.

Dr. Vinith R delivered a talk and hands on session on "Machine Learning" at TKM College Of Engineering on 8/1/2019

Faculty Achievements (2018)

Dr. Vinith R delivered a pre-Conference workshop on "Deep Graphical models" on 13th September 2018 as a part of ICACC'2018 at Rajagiri School Of Engineering & Technology, Kakkanad.

Successfully conducted PMKVY training classes for external college and plus two completed students on Programming languages by Mr.Thomas George, Ms.Reshma K V and Ms.Ninu Francis

Icode in association with CESA organized a one day workshop, 'Introduction to Programming', on 3rd of March 2018. The workshop sessions were handled by Fr. Dr. A K George

Project entitled 'Integrated Speed Tracking and Toll Management System' of S8 CSE A students, Allen Francis Antony, Arnold Anto, Deepa Rajendran, Jinu Jose, KeerthanaSasikumar has provisionally approved for financial assistance under INNOVATE scheme of KSCSTE 2018 under the guidance of Divya M Menon.

Ms. Aswathy Wilson & Ms. Hima Haridas (S4 MTech) got Best Paper Award titled "An artificial intelligence approach for predicting stroke disease in KETCON hosted by Sahradaya College of Engineering.

---

Student Achivements(2018-2019)

Ashique P S S8 CSE A qualified GATE 2019

Nicy Joseph K S8 CSE got placed in HCL Technologies

Abin Mathew Wilson S8 CSE got placed in SHRIRAM

Cathrine lenette of S6 CSe A bagged the New Face award and first runner up for Keraleeya Vanitholsavam 2019

Mariya S6 CSE B Participated in the PRAYAANA CAREER QUEEN SUMMIT 2019 at KSUM Kalamassery on 8th March and Won 4th position

Abhishek Achuthankutty, Ajaz F, Anand A M, Anirudh Rajan of S8 CSE A & Tina Thomas, Vishnu K of S8 CSE B placed in Speridian Technologies.

Joseph Joel, Nithin Peter, Rashi M, Karthik P C, Adithya Vijayan ,Sanjana, Shibana , Sangeetha C P, Sreehari , Sidharth U, Shinoz Mohammed , V J Vishnu, Joseph Joseph, Saurav Mundanatt, Naveen P R,Vincy Anto of S4 CSB has completed "Google Cloud Platform Fundamentals : Core Infrastructure" offered through Coursera.

Amal tom and Deepak K V of S4 CS A has completed "Google Cloud Platform Fundamentals : Core Infrastructure" offered through Coursera.

A M Abhishek of S8 CS A got placed in Sutherland Global services

Archana Venugopal and Jeena Varghese secured third prize in the event V-Hack and Kokul Jose secured first prize in the event CODX in KTU tech fest 2019 held at GCT Thrissur on 15/02/2019 – 17/02/2019

Anand Murali, Akhil V, Arif got First prize in Electro Hackathon , and Arya P Menon, Anu C Jaison got First prize in Volt Hunter, in the tech fest held at Vidya Engineering college.

Catherine Anto , Bini Maria,Emmanuel Wilson,Ajaz F of S8 CSE under the guidance of Ms.Aswathy Wilson presented their project "Lyza for women" in Yuva master mind Grand finale held at Ernakulam.

Jisna Joby,Catherine Lenette,Agna E A, Divya shibhu under the guidance of Ms.Divya M Menon presented their project "Haptic Shoe for blind and elderly" in Yuva master mind Grand finale held at Ernakulam.

AmalPrem, Jain Johnson, Harikrishna , Delma Davis of S8 CS A with their project "IOT based speed limiter " under the guidance of Ms. Aswathy Wilson got fund of Rs.7000 from KCST

Mohammed Ashiq Maqbool, Viju Valsan, Mohamed Saajid KM, Kokul Jose, Raveena P of S6 CSE B with their project "Currency Recognition Spectacles for Blinds" under the guidance of Mr. Fepslin Athish Mon S got fund of Rs.5000 from KCST

---

Student Achievements

2017-2018

The idea "Tiny Bits-a robot for introducing coding to students" presented by Anand Murali, Jeena Varghese, Adwaith K V, Archana Venugopal got prototype fund of 75K from IDEA FEST 2018.

Arya P Menon of S4 CSE A got Microsoft Internshala Student Partnership

Project titled "LYZA for women" by Catherine Anto, Ms. Asna Nesry, Mr. Emmanuel Wilson, Mr. Ajaz and Ms. Bini Mariya of S7 CSE A under the guidance of Ms. Aswathy Wilson got selection in Yuva Mastermind season

Project titled "Haptic Shoe for the blind and elder people" by Ms. Jisna Joby, Ms. Catherine Lenette, Ms. Divya Shibu and Ms. Agna E A of S5 CSE A under the guidance of Ms. Divya M Menon and Ms. Ninu Francis got selection in Yuva Mastermind season 9

Sreerag R Nandan got first prize in Coding in IT FEST 2018 held at Yuvashketra college, Palakkad.

Ms. Archana Venugopal., Ms. Jeena Varghese, Mr. Anand Murali , Mr. Akshay M V and Mr. Adwaith K V of S5 CSE A selected in Idea Fest

Mr. Harikrishnan T got Microsoft Internshala Student Partnership

Asna Nesry ,Catherine Anto ,Jima Mariya, Bini Maria participated in the first round of Chhatra Viswakarma Awards held at Bangalore and got selection to participate in grand finale which will be held at New Delhi.

Harikrishnan T and Ashiq P S of S7 CSE A secured second prize in Debugger Competition held at NSS Palakkad.

Vishnu K of S7 CSE B placed in IBS. Sreenath of S7 CSE B , Jijith S Nair and Anand A M of S7 CSE A placed in TCS

Vishnu Prasad C, Tina Thomas, Reshma P, Robin Roy, Noel Vincent, Vishnu K of S7 CSE B and Abhishek Achuthankutty & Asna Nesry of S7CSE A placed in Poornam Infovision & Hexaware

Abin Varghese and Divya Shibu of S5 CSE A participated in the intercollegiate MediQuiz held at Amala Hospital.

Kokul Jose , N Rahul, Vikas, Shijith M S,Maria Ann Toms, Vrindha ,Kenas, Liya George,Viju Valsan,Teena David,Saajid,Maqbool,Lillit,Meera,Rahul M of S5 CSE B participated in the events Debugger, Explorer ,code of War, Eyes Off, Dark room maze,treasure hunt in the Tech fest held at NSS

Nitha Hyrin and Flower Mariya of S5 CSE B participated in First intercollegiate Athletic Meet Of APJ Abdul Kalam Technological University held at University Stadium, Thiruvananthapuram on 2,3,4th of November,2018

Anirudh Rajan of S7 CS A participated in IEDC Summit held at Amal Jyothi College of Engineering, Kanjirappally.
Adarsh P S of S7 CS A participated in KTU EZone Football tournament held at GEC Palakkad.

Adarsh P S of S7 CS A attended a Workshop on 'Ethical Hacking' held at AIMS Kochi and a workshop on TEDX 'Hypercubes beyond dimensions' held at Rajagiri College of Engineering, Kakkanad.

Ajaz, Anirudh, Emmanuel, Asna , Bini, Jima Mariya, Catherine of S7 CSE A with their project "LYZA FOR WOMEN" got selected for the Final round of Kerala Startup Mission

Emmanuel Wilson of S7 CSE A got selected in finals of Young Innovator's program held at Rajagiri college of Engineering , Kakkanad.

Hrishikesh P S participated in football tournament held at GEC Palakkad . F. Ajaz participated in Intercollegiate Cricket tournament held at NSS Palakkad

Kokul,N Rahul,Vikas and Shijith of S5 CS B participated in the event "Interface" in the Management Fest Tarang 2018 held at NIT Calicut.

Nitha Hyrin of S5 CS B participated in Badminton and Noyal Piyoos of S5 CS B participated in Volleyball in KTU EZone held at Christ college Of Engineering

Shijith M S, N Rahul, Tenwin James, Roy Eluvathingal, Mathews of S4 CSE B has provisionally approved for financial assistance under INNOVATE scheme of KSCSTE 2018 under the guidance of Anil Antony.

Surya R , Noel Vincent and Vishnu K of S6 CSE B got 2nd prize for Ibeto grand finale conducted by Govt. Model Engineering College , Thrikkakara

Vishnu K and Noel Vincent has presented their project "KAVACH - A smart secure watch for women and children" in smart India Hackathon held at Pune.

Noel vincent secured third prize in Idea Hackathon held under the banner of IEDC at Vidya Engineering College

Anirudh Rajan participated in Startup i3 at EKCTC and FOSS MEET 18 at NIT Calicut.

Catherine Anto and Asna Nesry of S6 CSE A got selected for the Startup Mentorship Program 2018 held at AICTE,New Delhi.

Catherine Anto, Asna Nesry, Bini Mariya of S6 CSE A got second prize for their product "LYZA for women" guided by Ms. Aswathy Wilson in International Women Hackathon 2018.

Project entitled 'Integrated Speed Tracking and Toll Management System' of S8 CSE A students, Allen Francis Antony, Arnold Anto, Deepa Rajendran, Jinu Jose, KeerthanaSasikumar has provisionally approved for financial assistance under INNOVATE scheme of KSCSTE 2018 under the guidance of Divya M Menon.

Anagha, Aiswarya, Joe of S8 CSE A and Sanoop, Aiswarya of S8 CSE B placed in AMAZON

Ms. Hima Haridas of S4 MTech got Best Paper Award titled "An artificial intelligence approach for predicting stroke disease" under the guidance of Ms. Aswathy Wilson in KETCON hosted by Sahradaya College of Engineering.

Shijith M S, N Rahul, Tenwin James, Roy Eluvathingal, Mathews of S4 CSE B presented their project titled "Agni" in KETCON hosted by Sahradaya College of Engineering.

Edwin Lingson and Athira L I of S8 CSE A got placed in KPIT

Asha Murali of S8 CSE A has been selected by Image InfoSystemsPvt Ltd

Catherine Anto, AsnaNasreen, Bini Mariya of S6 CSE A got second prize for their product "LYZA for women" guided by Ms. Aswathy Wilson in International Women Hackathon 2018.

Linta, Susmitha and Athira of S8 CSE qualified GATE Examination 2018.

Archana Venugopal S3 CSE A secured first position with SGPA 9.06,Jisna Joby with second position SGPA 8.4 and Jerin Reji with third position SGPA 8.31 in KTU second semester examinations

Maria Ann Toms & Kavya K of S3 CSE B secured first position with SGPA 7.91,Varsha Babu with second position SGPA 7.85 and Rinsy R with third position SGPA 7.7 in KTU second semester examinations

---