Poornam Infovision Pvt.Ltd.|| Pooled Campus Recruitment Drive for B.Tech 2019 passing out batch
Placement
Published On 27 Oct 2018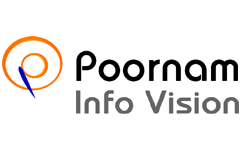 Company : Poornam Infovision Pvt.Ltd. https://poornam.com/
Date : Saturday, October 27, 2018
Reporting time : 9.00 AM
Full recruitment will happen on the same day (Aptitude test and also further rounds for the selected students)
COMPANY PROFILE
"Poornam" is the Sanskrit term for "Complete .Their objective is to provide "Complete" solutions to their customers.
To know more, please visit https://poornam.com/company/about-us/
POSITION
Junior Software Engineer.
ELIGIBILITY
Graduation : B.Tech

Branches applicable : CSE ,IT, ECE (EEE not permitted)

Aggregate 65% in 10th, Plus Two and B.Tech


No backlogs are allowed till S5

EXCELLENT written communication skills is preferred (English)

OTHER REQUIREMENTS
Knowledge in Linux/Unix/Windows/Networking preferable .

Ready to be based in Cochin, Kerala.


Willingness to work in shifts (rotational shift)
PACKAGE:
Total Compensation (for freshers during probation) - 2.5 Lakhs per Annum.
BENEFITS INCLUDED IN CTC
Ø Round the clock canteen facility will be available at a subsidized cost.
Ø Company is giving accommodation with cleaning facilities at a subsidized cost.
Ø Free transportation to and from the office to the accommodation.
Ø Eligible for Rs. 3,00,000/- worth medical insurance per year (self +two dependents).
Ø You will be covered under our group life insurance scheme for an amount of Rs. 3,20,000/-
Ø Eligible for leave / holiday as per Company rules.
Ø Eligible for statutory benefits like PF / ESI / Gratuity from day one.
DOCUMENTS TO BE CARRIED
Updated resume with photograph (Must)

College ID card (Must)


Copy/Print of 10th 12th and B.tech Mark sheets.
Dress code : College Uniform
SELECTION PROCESS
Written test-. (General Technical Awareness / comprehension/ written essay Duration: 1 Hr.)

Technical Interview


HR Interview