"Computer Science is a wonderful branch of engineering, where one who makes the most of programming mistakes moves fast ahead of others to become an expert."

NBA ACCREDITED TILL 30-06-2019
(Vide ref. F.No. 26-50/2014/NBA Dt: 25-10-2016)
Courses Offered
B.Tech

The Department of Computer Science & Engineering started the Bachelor of Technology programme in Computer Science and Engineering in the year 2002. The programme started with an intake of 60 students. The intake was increased to 120 in 2013.

The B.Tech.programme in Computer Science and Engineering has an average intake of 120 students per year. The Computer Science and Engineering Department spares no effort in imparting High Quality Education to its highly motivated students.

The programme is supported by good infrastructure facilities.The B.Tech.programme has good placement records every year. About 15% of the students pursue higher studies.

M.Tech

The Department of Computer Science & Engineering started the Master of Technology programme in Computer Science and Engineering in the year 2013. The programme started with an intake of 18 students.

The M.Tech programme in Computer Science and Engineering provides an overview of the recent developments in the various areas of Computer Science. GATE scholarships are offered to eligible candidates. Students who successfully complete the programme are employed in the industry. Alternatively, they can pursue higher studies in institutions of repute in India and abroad.

Vision
Creating ethical leaders in the domain of Computational Sciences through quality professional education with a focus on holistic learning and excellence

Mission
To create technically competent and ethically conscious graduates in the field of Computer Science and Engineering by encouraging holistic learning and excellence.
To prepare students for careers in Industry, Academia and the Government.
To instill Entrepreneurial Orientation and research motivation among the students of the department.
To emerge as a leader in education in the region by encouraging teaching, learning, industry and societal connect.

Programme Educational Objectives
The graduates shall have sound knowledge of Mathematics, Science, Engineering and Management to be able to offer practical software and hardware solutions for the problems of industry and society at large.
The graduates shall be able to establish themselves as practicing professionals, researchers or Entrepreneurs in computer science or allied areas and shall also be able to pursue higher education in reputed institutes.
The graduates shall be able to communicate effectively and work in multidisciplinary teams with team spirit demonstrating value driven and ethical leadership.

Programme Outcomes
Students in the programme at the time of their graduation are in possession of:
An ability to apply knowledge of mathematics, computing, science and engineering.
An ability to design and conduct experiments, as well as to analyze and interpret data.
An ability to design and construct a hardware and software system, component, or process to meet desired needs, within realistic constraints.
An ability to function on multi-disciplinary teams.
An ability to identify, formulate, and solve engineering problems.
An understanding of professional, social and ethical responsibility.
An ability to communicate effectively.
The broad education necessary to understand the impact of engineering solutions in a global, economic, environmental, and societal context.
A recognition of the need for and an ability to engage in life-long learning.
A knowledge of contemporary issues.
An ability to use the techniques, skills, and modern engineering tools necessary for professional practice
Ten big reasons to opt for Computer Science
1. Computer Science is part of everything we do!
Computer Science is part of just about everything that touches our lives from the cars we drive, to the movies we watch, to the ways businesses and governments deal with us. Understanding different dimensions of computing is part of the necessary skill set for an educated person in the 21st century. Whether you want to be a scientist, develop the latest killer application, or just know what it really means when someone says "the computer made a mistake", studying computer science will provide you with valuable knowledge.
2. Expertise in computing enables you to solve complex, challenging problems.
Computer Science is a discipline that offers rewarding and challenging possibilities for a wide range of people regardless of their range of interests. Computing requires and develops capabilities in solving deep, multidimensional problems requiring imagination and sensitivity to a variety of concerns.
3. Computer Science enables you to make a positive difference in the world.
Computer Science drives innovation in the sciences (human genome project, AIDS vaccine research, environmental monitoring and protection just to mention a few), and also in engineering, business, entertainment and education. If you want to make a positive difference in the world, study computer science.
4. Computer Science offers many types of lucrative careers.
Computer Science jobs are among the highest paid and have the highest job satisfaction. Computer Science is very often associated with innovation, and developments in computing tend to drive it. This, in turn, is the key to national competitiveness. The possibilities for future developments are expected to be even greater than they have been in the past.
5. Computer Science jobs are here to stay, regardless of where you are located.
There actually are more computing jobs than qualified people to fill them. In U.S., for instance, the Bureau of Labor Statistics projects growth rates between 12% and 37% in Computer Science related occupations from 2012 through 2022. If you consider the expected growth in computer science, it's easy to see that companies simply need more talent. Don't miss out on pursuing the large number of open positions available right now.
6. Expertise in Computer Science helps you even if your primary career choice is something else.
Having a degree in Computer Science will provide you with a foundation of knowledge, problem solving and logical thinking that will serve as a competitive advantage to you in your career, in whatever field you choose.
7. Computer Science offers great opportunities for true creativity and innovativeness.
Creating high-quality computing solutions is a highly creative activity, and computing supports creative work in many other fields. The best solutions in computing exhibit high levels of elegance and beauty.
8. Computer Science has space for both collaborative work and individual effort.
Computer Science is often about being part of a team that requires people with many different kinds of skills. Yet there is also plenty of space for individual flair and imagination.
9. Computer Science is an essential part of well-rounded academic preparation.
An increasing number of universities and employers see successful completion of a Computer Science course as a sign of academic well-roundedness.
10. Future opportunities in Computer Science are without boundaries.
Computer Science is one of those fields where it is almost impossible to predict what will happen next. This is why we cannot even begin to imagine all the ways that you can make a contribution to it and it can make your life's work exciting and real.
About Curriculum of Computer Science
Computer science spans a wide range, from its theoretical and algorithmic foundations to cutting-edge developments in robotics and smartphones, computer vision, intelligent systems, bioinformatics, and other exciting areas.
Computer science spans the range from theory through programming. Curricula that reflect this breadth are sometimes criticized for failing to prepare graduates for specific jobs. While other disciplines may produce graduates with more immediately relevant job-related skills, computer science offers a comprehensive foundation that permits graduates to adapt to new technologies and new ideas.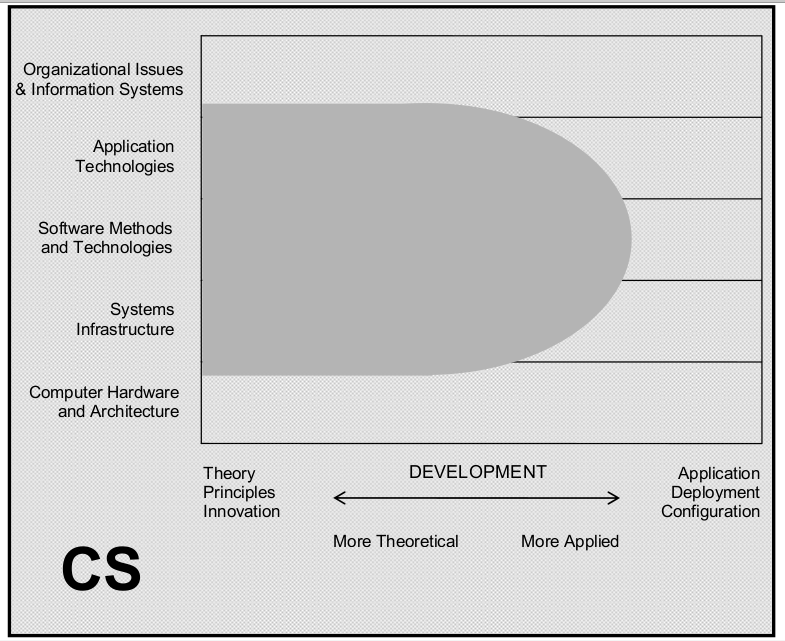 Fig: Problem-space of computer science. [Source ACM]
Computer science covers most of the vertical space between the extreme top and extreme bottom because computer scientists generally do not deal with just the hardware that runs software, or just the organization that makes use of the information that computing can provide.
As a group, computer scientists care about almost everything in between those areas (down as far as the software that enables devices to work and up as far as the information systems that help organizations to operate). They design and develop all types of software from systems infrastructure (operating systems, communications programs, etc.) to application technologies (web browsers, databases, search engines, etc.)
Computer scientists create these capabilities, but they do not manage the deployment of them. Therefore, the shaded area for computer science narrows and then stops as we move to the right. This is because computer scientists do not help people to select computing products, or tailor products to organizational needs, or learn to use such products.
Overall, there are far more degree programs in computer science than in any other computing discipline. The great majority of colleges and universities offer a CS degree. To some extent, this is a historical artifact: computer science was the only substantive computing discipline that focused explicitly on software development when academic computing degree programs emerged in the 1970s. When most colleges created their computing degree programs, computer science was the only choice that had strong ties to mathematics, science, and/or engineering.
[Source : ACM]
Lipin, Leon, Philip and Chris of S6 CSE-B have successfully developed a real-time Linux kernel for their smartphone Lenovo Vibe K5 from Android sources (Marshmallow). The kernel has been flashed to their smart-phone. A screenshot is appended here. The team is getting ready to build a fully functional Operating System for Lenovo Vibe K5. This is a new milestone in the history of CSE department, as there aren't any official release for Kernel or the Operating System from Android or other clones for Lenovo Vibe K5. Congratulations to the team.

---

Congratulations to Ms Maria Flower Wilson (University first rank in IT) and Ms Soorya M (University first rank in CSE) - University of Calicut (2011-2015)

---

CSE organized an FDP on Design Thinking in association with ISTE and IEDC of JECC on 30th and 31st of January 2017.

---

CESA organized a talk on "Career Growth in IT" for the students by Prof. Francis George on 27/01/2017.

---

---

CESA Organized a FDP on "How to write a Research Paper" for the MTech students and faculty on 10/11/2016

---

CESA Inaugration will be held on 30/9/2016. As part of CESA activities, a workshop on 'Rust system programming language' will be conducted. The workshop will be lead by Pramode C E, Founder, Recursive-Labs

---

M. Tech Induction ceremony (2016-2018 batch) will be conducted on 01/08/2016

---

---

---
The Department Library has a collection of around 1000 text books as well as project reports and seminar works carried out by the students.
B.Tech (2006 Onwards)
Project Reports
Mini Project Reports
Seminar Reports
M.Tech (2014 Onwards)
Project Reports
Seminar Reports
Industrial Training Reports
Faculty in Charge: Mr. Majo John
Computer Engineering Students Association (CESA) is the first students initiated organization of Jyothi Engineering College. It has been set up with the aim of improving technical knowledge of students and bringing them closer to the practical world of computer science and technology. Several events were conducted by CESA for giving a platform for the students to present their ideas and innovative contributions to technical world.
Goals/Objectives:
Improve the technical knowledge of students and bring them closer to the practical world of computer science and technology.
Open the doorway to new technologies and conventions.
Provide the students a platform to express their creativity and to put on their ideas to more application level.
Open the doorway to new technologies and conventions.
---
President: Alfin lawrance (S7 CSE A)

Vice President: Sreelakshmi G (S7 CSE B)

Secretary: Ashith Wilson (S7 CSE A)

Joint Secretary: Sona S(S7 CSE A) & Lipin Pius (S5 CSE B)

Treasurer: Freceena Francis (S7 CSE A)

Joint Treasurer: Lakshmi S (S7 CSE B)

PRO: Jerome Joseph T (S5 CSE A) & Athira L I (S5 CSE A)

---

Executive Members

Aleena Seby (S7 CSE A)
Jerin K J (S7 CSE A)
Sanjana Vinod (S7 CSE B)
Frijo Johnson (S5 CSE A)
Atmaj Janardanan (S5 CSE A)
Edwin Lingson (S5 CSE B)
Manu George(S5 CSE A)
Susan Shaju (S3 M Tech)

---

---